What's the best candle wax?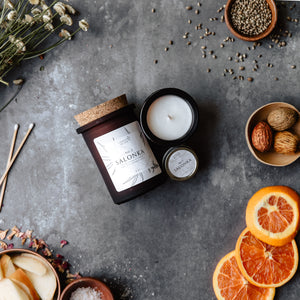 What's the best candle wax? Soy wax vs. coconut wax vs. paraffin wax vs. beeswax
Humans have been lighting candles for thousands of years. And while candle technology has come a long way to make candles cheaper, longer lasting, and more accessible, it hasn't always resulted in the cleanest or most eco-friendly products. Read on to learn about the different types of candles available on the market, and what you should look for in a clean candle.
BEESWAX
The original candle wax, beeswax dates all the way back to the ancient Egyptians, who used it in both candle making and cosmetics. Harvested from honeycomb, unbleached beeswax has a golden color and carries a sweet, honey-like scent.
Benefits:
Natural and made by bees

Candles burn with little to no smoke or soot

Slow burning and long lasting

Has a natural honey-like scent
Cons:
Does not have good scent throw (i.e. It doesn't hold or distribute a scent well)

Its natural sweetness does not mix well with essential oils and fragrances

Can be expensive
PARAFFIN WAX
The vast majority of candles on the market are made from paraffin, a colorless, odorless byproduct of petroleum. Most mass produced candles use paraffin because it is cheap to make and easy to color. However, it is the least environmentally friendly type of candle wax because it comes from the process of refining fossil fuels. 
Benefits:
Good at holding a scent and strong scent throw

Easy to color

Cheap and widely available
Cons:
Made from petroleum byproducts

Burns fast, which means it won't last long

Can create lots of smoke and soot
SOY WAX
Derived from soybean oil, soy wax is a more natural but still widely available alternative to paraffin wax. It produces less smoke and soot than paraffin wax candles, lasts longer, and has the same colorless properties, although its eco-friendliness depends on whether the manufacturer uses organic soy—soybean oil is a byproduct of the soybean industry, which relies heavily on pesticides and toxic fertilizers.
Benefits:
Natural and derived from soybean oil

Candles burn with little to no smoke or soot

Slow burning and long lasting

Cheaper than most other natural candle waxes 
Cons:
Does not have strong scent throw

Soybean agriculture contributes to mass deforestation and the use of toxic pesticides and fertilizers
COCONUT WAX
Derived from coconuts, coconut wax is fast becoming a favorite among candle makers because it offers a slow and steady burn with little to no smoke or soot, mixes well with essential oils and fragrances, has a strong scent throw, and a small carbon footprint. In fact, in addition to being one of the more natural wax bases, an acre of coconut trees absorbs more than 24 tons of carbon from the air each year, compared to paraffin wax, which absorbs zero carbon.
Benefits:
Cleanest type of candle wax—derived from a plant source that actively absorbs C02 from the atmosphere

Mixes well with fragrances and has strong scent throw

Candles burn with little to no smoke or soot

Slow burning and long lasting




Cons:
Coconut wax can cost more than other candle wax alternatives

Harder to find
TAKEAWAY:
Any candle you light will release fragrances and evaporated candle wax into the air, so it's important to choose a clean candle wax made from natural, non-toxic ingredients that won't fill your room with soot and smoke. 
When it comes to candles, cleaner ingredients will make a difference to your health, your home, and the environment.
1 Response
Leave a comment
Comments will be approved before showing up.
---
Also in Urban Re-Leaf Candle Blog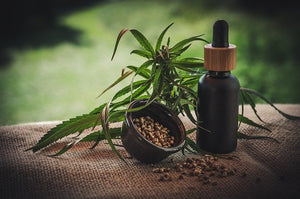 Dear Friends,
Happy Holidays! If you're still searching for the perfect gift for friends and family who love the cannabis/ hemp world, here's my holiday gift guide featuring the best cannabis cookbooks, accessories, infused eats, and infusion devices out now.