CANDLE TUNNELING, HOW TO FIX IT
Candle Tunneling , How to Fix It
If your candle still shows signs of tunneling, there are a few things you can do to fix it. First, for safety, this is a good moment to remind ourselves to never leave a burning candle unattended, and of course to be mindful of pets, children, drafts, and anything nearby that could catch fire. It also helps to trim your candle wick to ¼ inch before each lighting (a candle wick trimmer works best) as this enables a cleaner, more consistent burn. Please be safe! 
THE HAIR DRYER METHOD
Our preferred method for fixing tunneling is to melt the entire candle surface with a hair dryer. First extinguish the flame if lit, then use a hair dryer to carefully melt the wax to the edge of the container. Use a low setting and hold the hair dryer far enough away to avoid spattering any wax. The goal is to remove the "memory" so that the next time you light your candle, the pool of melted wax will reach the container's edge (or nearly so). 
THE ALUMINUM FOIL METHOD
Another common way to fix candle tunneling is to use aluminum foil, pictured above, to reflect heat back down to the candle's edge to aid in melting the wax. This method may take a few tries to get right and the foil gets hot, so be careful to let it cool before adjusting or removing it. Using one or more sheets, wrap foil around the outside of the candle so that the top extends inward over the unmelted wax like a roof while leaving the center open for the flame. After 1-2 hours of burning, your candle surface should even out with a pool of melted wax that reaches the edge of the container. 
THE WAX METHOD
A third way to fix a tunneling candle is to scoop out the unmelted wax with a spoon until it is the same height or lower than the middle part that melts, thereby removing the "memory". When you then light the candle, be sure to let it burn long enough for the pool of melted wax to reach the edge of the container. Also, be sure to wipe clean the spoon with a paper towel and dispose of all wax in a waste bin… wax can clog a drain! 
We are true candle lovers who enjoy how candles fill a room with a peaceful glow and a nice scent. There is nothing better than a well-crafted candle for ambiance, whether during a special gathering, a relaxing evening in, or while taking that much-needed soak in the bathtub.  With the proper candle care, your candles will burn beautifully in your home.  
And when it's time to say goodbye to your favorite candle, you might find creative ways to repurpose the container. You can use it as a planter, make up brush holder, pen and pencil holder a catcth all and there are about 100 other things you can do with our recycleable jars. 
Leave a comment
Comments will be approved before showing up.
---
Also in Urban Re-Leaf Candle Blog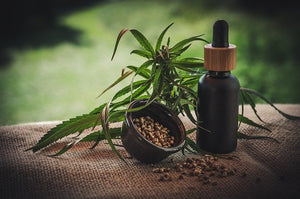 Dear Friends,
Happy Holidays! If you're still searching for the perfect gift for friends and family who love the cannabis/ hemp world, here's my holiday gift guide featuring the best cannabis cookbooks, accessories, infused eats, and infusion devices out now.
With me living in Los Angeles there are so many great local stores to shop in.  A lot of these stores are  owned by women who support other small businesses.  Here is a list of stores that you need to check out this holiday season.