A Scent to Match your Style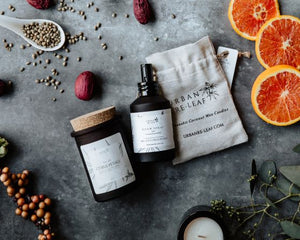 A SCENT TO MATCH YOUR STYLE
The rhythmic crashing of the waves, the undulating rise of the tides, the mist of seaspray… There's something quite special about time spent at the beach. And yet, no two coastal destinations are alike, each one has its own unique scents, flavours and local experience but they all have on thing in common, A calming feeling.
My hometown of Los Angeles may be intrinsically connected with the beach  along with a number of other great locals but we're always looking for relaxing times.
So no matter if you prefer a citrus or if you like some lilies, you'll find a fitting fragrance right here.  
A FIELD OF LILIES WITH CALMING LILY
Calming Lily Candle and Room Spray
Calming Lily will remind you of blooming gardens, running water and perfumed dusk.  The notes are floral based and contain black cherry, white nectarine water hyacinth.

Coconut wax candle infused with Cannabis essential oils and high quality fragrances
THE INTOXICATING SMELL OF OUD
My Oud Candle and Room Spray
No. 31 My Oud Cannabis Candle contains Plum and Agarwood. My Oud will remind you of a drive through meandering green hills of wine country. Highlights are Agarwood, sweet plum, lime, jasmine, wild orchid and black pepper. Dark Wild Notes!
THE ORIENT OF ZEN GARDEN
Zen Garden Candle and  Room Spray
No. 36 Zen Garden will remind you of strolling through lush bamboo filled gardens.  The note highlights are bergamot, bamboo, ylang ylang and green leaves.

Coconut wax infused with the Cannabis essential oils and high quality fragrances
THE MYSTERY OF THE CUBA WITH HAVANA WOOD
No 3 Havana Wood - A throwback to Big Cars, Big Cigars, Big Hair are you thinking of Cuba in the 50's?

Havana Wood will remind you of rich and smoky aromas with highlights of tobacco, passion flower, vetiver and kiwi.
THE ROBUST SMELL OF PECANS AND BOURBON IN WOODSLEY
No. 6 Woodsley will remind you of warm buttery notes.  Highlights are cinnamon, maple pecans, vanilla and teakwood, think of your first winter beach party.

Coconut wax infused with the Cannabis essential oils and high quality fragrances
Leave a comment
Comments will be approved before showing up.
---
Also in Urban Re-Leaf Candle Blog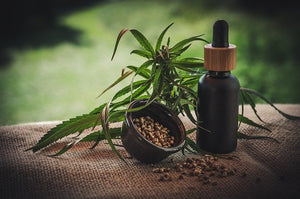 Dear Friends,
Happy Holidays! If you're still searching for the perfect gift for friends and family who love the cannabis/ hemp world, here's my holiday gift guide featuring the best cannabis cookbooks, accessories, infused eats, and infusion devices out now.
With me living in Los Angeles there are so many great local stores to shop in.  A lot of these stores are  owned by women who support other small businesses.  Here is a list of stores that you need to check out this holiday season.