The Benefits of Burning Candles in Your Home
The Benefits of Burning Candles in Your Home!
What is better than a quiet night in with burning candles by your side? How many friends and family enjoy a nice hot bath with a good book, surrounded by mini flames of calm and relaxation? Urban Re-Leaf Candles made from coconut wax and cannabis are sure to enhance the quality of your home—but just exactly how?
Whether you're enjoying Urbanre-leaf's My Oud, which entails the vibrant scent of plum and agarwood, or Citrus Petals, possessing crisp grapefruit and acai notes, the soothing effects of cannabis candles contribute to a serene and happy domestic life. Let's dive into the advantages of cannabis candles in an attempt to shed some light on the positive role they play for your home—and your mind!
Many will agree that candles certainly improve and enhance your mood. Some studies have actually shown that the regular use of candles in a home environment can boost immune function, regulate hormones and even ease symptoms of depression. Additionally, many report remembering positive memories when being around lit candles, which naturally contribute to a healthy mood, as well as a healthy mindset.
While candles are not a silver bullet for focus and concentration, the use of them, especially in your home or home office, can definitely strengthen attentiveness. In turn, this can lead to increased productivity and a more stimulated mind. What is stronger to revitalize your senses than a homemade coconut candle? Sure, it's not a cup of coffee, but it's a low-maintenance and proven way to help sharpen your efficiency.
On the opposite end, candles can help ensure a more restful sleep. Sleep experts recommend shutting off those electronic devices several hours before bedtime since the artificial light disrupts your brain and can interrupt healthy REM cycles. Instead, they recommend lighting a few candles to wind down, as it's a more natural way to reset your natural sleep patterns. Additionally, this may cut back on your electricity bill, too. Who doesn't love better sleep and saving a few bucks every month?
In the end, incorporating cannabis candles in your home—whether it's your living room, bedroom, bathroom or kitchen—can pave the way for meaningful and conscious living. Take some time and explore the ways in which you can assimilate candles into your everyday life. More than likely, you will notice how they contribute to your mental state and wellbeing. 
1 Response
Leave a comment
Comments will be approved before showing up.
---
Also in Urban Re-Leaf Candle Blog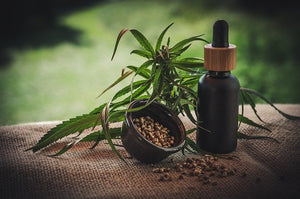 Dear Friends,
Happy Holidays! If you're still searching for the perfect gift for friends and family who love the cannabis/ hemp world, here's my holiday gift guide featuring the best cannabis cookbooks, accessories, infused eats, and infusion devices out now.