Top Benefits of Burning Candles
Humans have been burning candles for thousands of years. Whether it's for ceremonial purposes or medicinal, these burning wicks play an important role in our life and culture. But are we always aware of all of the benefits that can occur from candles? Let's explore some of the primary ones—truly, they run the gamut and are worth noting!
It's hard to think of a romantic image without candles—they nearly go hand-in-hand with chocolates, flowers and intimate dinners. Along the same lines, they are ideal for celebrations. Just think about it—what do we put on a birthday cake and blow out after making a wish? Candles are a wonderful way to acknowledge birthdays, weddings, anniversaries, as well as the people we love. We harness their significance to mark a special occasion, in addition to someone we care about and love.
 Cannabis candles, in particular, can also be really great for your health. Burning Thicket, for example, can be just the thing to allow you to decompress after a long day. Its scent, in particular, evokes green apple, mahogany, cognac and even red pepper, as well as other earth notes. Containing essential cannabis oils, Thicket will take your imagination to a rejuvenating happy place of running through the woods, surrounding by Mother Nature. Perfect for a special occasion, but also a-okay to have just for yourself to mark the beginning or end of a day.
Candles can also transform the ambiance of a room, as any interior designer will tell you.  Who can deny the power of strong burning wicks at dinnertime, surrounded by good food and great company? Additionally, candles can be utilized when you are wanting to remember someone by offering support and condolences. Some scents are tied to certain memories, allowing fond and happy times to bubble up to the surface.
All in all, it's hard to deny the countless ways in which we can utilize candles in our day-to-day lives. Thankfully, cannabis candles—containing essential cannabis oils—can provide the traditional benefits of candles while also providing restorative health advantages.
Leave a comment
Comments will be approved before showing up.
---
Also in Urban Re-Leaf Candle Blog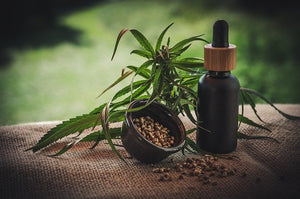 Dear Friends,
Happy Holidays! If you're still searching for the perfect gift for friends and family who love the cannabis/ hemp world, here's my holiday gift guide featuring the best cannabis cookbooks, accessories, infused eats, and infusion devices out now.