Top 10 Reasons to Add Cannabis to Your Life!
Top 10 Reasons to Add Cannabis to Your Life
There are medicinal and environmental reasons to add cannabis into your daily lifestyle. Or the positive effects of ingesting CBD in cocktails, appetizers, entrees and other edibles.
What we are chatting about is the breathable effects of cannabis essential oil.

These are Urban Re-Leaf's top reasons for creating cannabis products that will improve the quality of life for customers:

1.     Helps with joint pain
2.     Decreases inflammation
3.     Aids in relaxation
4.     Aids in restful sleep
5.     Low pesticide usage
6.     Low water usage
7.     Sustainable
8.     Products are very durable
9.     Products are anti-bacterial
10.  Will not get you high or interfere with daily activities

With all these great benefits, why haven't you added a little cannabis to your life?
It's simple enough to start small with one of Urban Re-Leaf's long-burning candles.  Do the candles cover everything in the list no but some items are covered.  Urban Re-Leaf will be bringing out other products that will cover joint pain and anti bacterial products.
Leave a comment
Comments will be approved before showing up.
---
Also in Urban Re-Leaf Candle Blog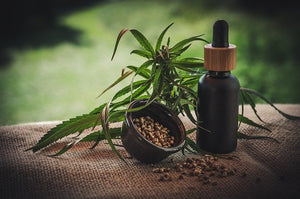 Dear Friends,
Happy Holidays! If you're still searching for the perfect gift for friends and family who love the cannabis/ hemp world, here's my holiday gift guide featuring the best cannabis cookbooks, accessories, infused eats, and infusion devices out now.