Three Things to look for when Choosing an Eco Friendly Candle
THREE THINGS TO LOOK FOR WHEN CHOOSING AN ECO-FRIENDLY CANDLE
Having the right home scent is an integral part of creating an environment – but it should never come at the expense of the actual environment. Happily, luxury and sustainability now coexist, which is good news both now and for future generations.
When choosing your next candle, if you're curious about how to make a decision that's better for the environment, we suggest keeping these three factors in mind.
THE WAX
As the essential ingredient for every candle, the wax is an excellent starting point. The most important consideration is that it's free from paraffin, a byproduct of the petroleum industry that's known to emit highly toxic chemicals such as benzene and toluene when burnt. However, going paraffin-free is only the beginning.
Eco-friendly wax options include soy and coconut wax, which both have merits for the environment and for your burn. Made from plant materials, soy wax is a fairly recent development, having only come about in the mid-1990s, when a group of US research students was assigned the task of designing a candle made from sustainable materials. If your candle contains soy wax, check to see that it's been made using non-GMO soy plants.
Coconut wax is also plant-based, non-toxic and is slower to burn, resulting in a longer burn time for your candle. Beeswax is another alternative, however it's generally considered not to be vegan-friendly.  
Urban Re-leaf candles are crafted using a blend of coconut and soy wax.  We've found this gives a beautiful and long-lasting burn while also being eco-friendly and cruelty-free.
THE SCENTED INGREDIENTS
Plant-based may be the clear preference for wax, however this isn't always the case with your candle's other ingredients. This may seem surprising, when we often think of natural ingredients as being better for the environment.
In fact, many synthetic options are preferable for their eco-friendly credentials, as well as offering a stronger scent and greater longevity. For example, certain perfume ingredients were once sourced from animals, including musk, which originally came from the male musk deer. This is no longer acceptable and synthetic musk provides a cruelty-free alternative.
Other factors to consider include whether any essential oils used in your candle are classified as Fair Trade, to ensure the growers and farmers work under good conditions and receive proper compensation for their plant-based oils.  
We've chosen to use both synthetic and natural essential oils in our candles and our room sprays. Having this flexibility allows us to select the most appropriate oil for each scent – for example, all our cannabis essential oils are plant based, while sandlewood and tobacco are among those that are synthiated based. As with all our suppliers, we work only with companies that have their own Responsible Sourcing Policies that set high standards for health and safety, environmental, business integrity and social practices.
THE PACKAGING
You shouldn't judge a book by its cover – except when packaging is concerned. Your candle should come packaged in recyclable materials and where possible, it may also use some recycled paper, cardboard or no packaging at all. By contrast, single-use plastic and cellophane create unnecessary waste. 
As far as the candle vessel is concerned, it's always a bonus when it's pretty enough to be repurposed around the home or office. However if you do prefer to put it out for recycling, ensure that the glass is clear or coloured-through as many other glass types – including gilded or painted glass – can't be recycled.
At Urban Re-Leaf, our packaging has been refined to feel luxurious while also being environmentally responsible. All our paper packaging is recyclable and our cardboard packaging is also made from recycled materials. Our jars contain 30% recycled materials.  Our candle vessels can be repurposed around the home or office, they can be recycled in regular household recycling.
Leave a comment
Comments will be approved before showing up.
---
Also in Urban Re-Leaf Candle Blog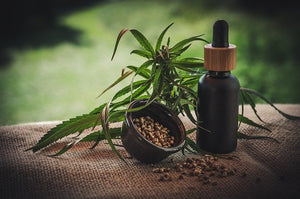 Dear Friends,
Happy Holidays! If you're still searching for the perfect gift for friends and family who love the cannabis/ hemp world, here's my holiday gift guide featuring the best cannabis cookbooks, accessories, infused eats, and infusion devices out now.