7 Shops to Check out for Local Holiday Decor and Gifting
7 Shops to Check out for Local Holiday Décor and Gifting
With me living in Los Angeles there are so many great local stores to shop in.  A lot of these stores are  owned by women who support other small businesses.  Here is a list of stores that you need to check out this holiday season.
Serendipity -Muse House Retreat offers a beautifully curated event space designed by renowned Serendipity Gift Shop owner Ashlan Christoph. Artfully combining retail, healing arts, and metaphysical elements, Muse House Retreat crafts an idyllic environment for gathering, mindful relaxation, and deep inner healing alongside a curated collection of gifts, home goods, and teas designed to encourage holistic wellness and celebrate the spirit of community.
Some of our favorite lines that we carry include:
Catstudio- Hand embroidered pillows and dish towels of All 50 states
Bla Bla- Handmade in Nepal collectable knit dolls for all ages
Hape- Sustainable children's toys
Bella's Loom- Hand Woven organically processed baby blankets from Turkey (no chemical dyes- just PURE organic cotton!)
We also are excited to carry several jewelry lines from local artists all around Los Angeles! If you are ever looking for a unique and special gift or just looking for a little curious wonder- Trinkets is the place to go
Ten Thousand Villages in Redondo Beach-We're a global maker-to-market movement that addresses economic injustice. Because every handcrafted object has a life of meaning behind it. We're a way for you to shop with intention for ethically-sourced handcrafted wares - and to share in the joy of empowering makers in ten thousand villages.
As a pioneer of fair trade, we do business differently, putting people and planet first. That means you can trust that every purchase and donation you make directly impacts the life and community of its maker in a developing country. Together we break the cycle of generational poverty and ignite social change. 
I recently stopped by her store to check it out.  I have seen her store on the internet but not in person.  Her store is close to Lollipop in Redondo Beach, and I was shopping for my niece this holiday.  Anyway, as I walked in, she had a number of people in her store.  She approached me, said hello, and wanted to know if I had been in her store before.  I told her no and she explained the concept of her store.  Which basically features local artist or fair-trade artist products from around the world. I did find some children's books and some interesting crayons that are made from tree wood that I will probably purchase.  She also had cool home accessories that I liked.  I had already overspent on my niece at Lollipop that day and was determined not to spend any more money on her or me.  Now that was a week ago so I may venture out and buy those crayons.  My niece is into art and being creative so I think she would really enjoy these crayons.
Espionage-Espionage, founded in 2011 by Taylor King, has established itself as the destination for custom gifting for the local community, the entertainment industry, and celebrity clientele. Espionage features carefully curated selections of vintage and modern objects, such as barware, home décor, clothing, and jewelry. Taylor founded Espionage as a place where individuals could escape and travel to another time or place experiencing the thrill of finding meaningful objects of their own.
Village  Heights in Larchmont Village- is owned by Louis E. He has been in business for over 15 years.  I cold called his shop in August when it was a 100 degrees outside.  He has the cutest shop with items from all over the world and from local artists.  I continued to email Louis about once a month and he finally sent me an email to set up a time for me to come in with my candles.  He brought a great selection of candles, room sprays and CBD bubble bath. If you haven't experienced the Larchmont area, it has great restaurants, shops and just a great hometown vibe. 
Tabula Rasa in Manhattan Beach - Tabula Rasa Essentials is the ultimate southern California shopping experience with personally curated gifts, home decor, candles, apothecary, kids, jewelry, books and more located in the heart of downtown Manhattan Beach.
Our lifestyle gift shop opened it's doors in May, 2000 and is a must visit destination for southern California locals and visitors to Manhattan Beach. With a coastal vibe just footsteps from the beach, our shelves are stocked with the newest novelties and a continual flow of unique hand-selected merchandise.
We enthusiastically support local artisans from our own backyard and around the globe.  With their own special vision, our artists create amazing treasures that thrill and delight our customers.  Many of their creations are made of sustainable and reclaimed goods and are made in the USA.
Here is great Manhattan Beach store. I have shopping here for years as well. The local gift stores always bring in fun and interesting items. I don't know the owner I do plan on calling on her in the New Year. Colding calling can be a challenge but I find it is great way to get to know the owners and their staff. 
Gumtree is owned by Lori.  She grew up in Manhattan Beach and understands the coastal vibe.  She brings in local artist and has items from jewelry to furniture. Her store is bright and airy and you could literally stay in their for hours.  There are so many things to experience and take in that you have to walk the store several times in order not to miss something.  She has such a large ranging assortment of goodies that are sure to find that unique gift or something amazing for your own home. I have been shopping at Gumtree since I discovered it many years ago.  I didn't know Lori then but I know her now. 
Once again it was a cold call email that I sent to her store that gave me an opportunity to show her my products and land a sale.
At the time of me wrting this, some of the stores carry some of my products and some don't.  I find that supporting a small business is always the best way to shop.  Every quarter I intentionally set out to buy from a small business.  Since my niece was born 7 years ago, I have purchased from Lollipop in Redondo Beach.  It is a children's boutique.  I now know the owner and her mother. Every birthday and Christmas I buy from her shop.  She knows when I come into her store, I am there to buy for my niece.  She has beautiful kids' clothes that you are not going to see anywhere else. 
I also hope you will check out my site, Urban Re-Leaf and Urban Re-Leaf Home.  I make cannabis coconut wax candles, room sprays, CBD Bubble bath, hemp and sustainable pillow covers.  Thanks for supporting small businesses.
Denise
Leave a comment
Comments will be approved before showing up.
---
Also in Urban Re-Leaf Candle Blog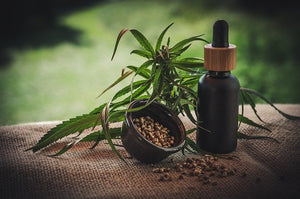 Dear Friends,
Happy Holidays! If you're still searching for the perfect gift for friends and family who love the cannabis/ hemp world, here's my holiday gift guide featuring the best cannabis cookbooks, accessories, infused eats, and infusion devices out now.