Self Care Sundays
Self-Care Sunday is so much more than a trending hashtag on Instagram.
All too often, Sunday evenings are total downers – the bulk of the weekend has come and gone, and by the time the sun has set, we're shrouded in the Sunday Blues.
Enter Self-Care Sunday. By ending the weekend with something to look forward to, you'll wrap your two-day break on a positive note.
Plus, self-care is the best way to recuperate after a weekend of socializing, revelry, or getting that side hustle on. And a bit of pampering will help you recharge for the work week ahead.
Use this checklist to make sure you have everything you need to treat yo'self well, and get ready to relax:  
Scheduled time for yourself
Between job schedules, catching up with friends, and family needs, the world demands a lot of us. It's easy to sacrifice self-care in favor of happy hour, or wrapping up work tasks that we feel just have to be submitted ASAP.
But self-care is crucial – and the longer we forgo it, the greater the stress that piles up. Which can lead to a mega burnout down the road.
If you find it difficult to locate space in your hectic schedule for downtime, follow this tip from Fast Company: Plug it into your calendar.
You'll be less inclined to skip your "Me Time" if you have it physically on the books.
Treat yourself to some indulgent – albeit healthy! – food
The point here isn't to go on a total carb overload (though more power to you, if you do!), but rather to take the time to enjoy your food.
Whether it's a gorgeous, multi-layered smoothie bowl or a plate of your world-famous nachos, feed your tummy and your soul with fresh comfort food à la you.
In an age when food is often prized for its "grab & go" convenience, now's your chance to really sit down and enjoy the fruits of your labor. Savor each bite, let the flavors sink in, and enjoy your meal mindfully.
Say "cheers" to your health
What's a meal without wine?
Breakfast.  
For at least one of the other two meals, let yourself enjoy a glass of something special.
Again, you don't have to go overboard with your consumption, since that's counterproductive, anyway. But there's something so fittingly self-indulgent about cracking open that nice bottle just for yourself (and saving the rest with an effective wine stopper, of course).
Psst: If you're looking to relax, science has pretty much proven that red is your best bet.   
Release any unwelcome emotions
In order to effectively recharge, first you'll need to clear any lingering or pent-up emotions. Yoga, meditation, and journaling are all excellent methods for doing so.
Want to stretch it out? Here are seven yoga poses purported to release trauma from the body (plus, Lion's Pose definitely looks like fun if you ask us).
If meditating is more your speed, check out guided sessions online. The Chopra Center has a free library of self-enriching talks, as does UCLA.  
Or if you'd like to write out your thoughts, here are 10 journaling tips designed to help you heal and grow in the process.   
Hit the "Yes, I'm still watching" button
Or some variation thereof. Let yourself catch up on your favorite series, or tend to your own personal herb garden.
Or maybe your preferred method of unwinding and escaping is watching a good rom-com, diving into an uplifting novel, or blasting a Bach concerto on your retro turntable all while burning Urban Re-Leaf Candles. My Oud is our top seller whereas Calming Lily says it all.  Nothing like soothing scents to help you relax.
Whatever leads you to your own personal zen, now's your opportunity to do it without any judgement or pressure to be "more productive ."
Soak it all up  
The best way to end your #selfcaresunday? With everyone's favorite pampering activity: A nice long soak in the bath with Urban Re-Leaf CBD Bubble Bath. We have several scents for you to chose from.
Queue up the relaxing tunes, inhale some calming essential oils, and slip into something detoxing, calming, or naturally moisturizing. Pair this time in your own personal spa with a facial or mani-pedi, for the ultimate end to the weekend.
Sunday Blues who?  The Urban Re-Leaf family hopes to take these suggestions to heart.  Enjoy!
Leave a comment
Comments will be approved before showing up.
---
Also in Urban Re-Leaf Candle Blog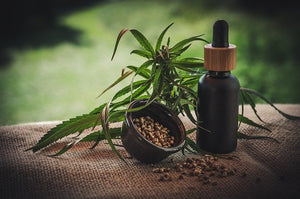 Dear Friends,
Happy Holidays! If you're still searching for the perfect gift for friends and family who love the cannabis/ hemp world, here's my holiday gift guide featuring the best cannabis cookbooks, accessories, infused eats, and infusion devices out now.