Repurposing your candle vessel with Urban Re-Leaf
If you close your eyes, the right fragrance can take you anywhere. A smoky, pine-scented candle can make you feel like you're walking through the winter woods on the way back to your ski cabin. A combination of fresh marine scents can give you the feeling of relaxing by the beach as the waves slap against each other. Your favorite scent might even transport you back to your favorite childhood memories.
That's the beauty of Urban Re-Leaf fragranced candles. From bright and uplifting to calming and soothing, a variety of luxurious fragrances await you. If you can't make up your mind, choose an assortment of classic, signature, or 3-wick candles to place throughout your home.
One of the main benefits of Urban Re-Leaf Candles is the care and precision we put into each candle made. This extends to the candle vessel as well. Each vessel is made to be reused after you've finished burning your candle. With a little creativity you can continue to enjoy your Urban Re-Leaf candle vessel for years to come.
Why Repurpose Your Urban Re-Leaf Candle?
All scented candles are not created equal. You can easily smell the difference between an inexpensive candle and a luxury boutique candle. When it comes to Urban Re-Leaf fragranced candles, however, the quality is not just in the fragrance – it's in the entire candle, including the vessel. Urban Re-Leaf fragranced candle vessels in frosted amber jars that a percentage has been recycled.
When you choose a Urban Re-Leaf candle, you're choosing more than just a fragrance – you're choosing a piece of handmade home décor and you don't want to discard it simply because the candle has burned out. Not only can you continue to enjoy the beauty of Urban Re-Leaf by repurposing your candle vessel, but you'll be doing the environment a favor as well.
Preparing the Jar to Be Repurposed
 Urban Re-Leaf fragranced candles come in three sizes ranging from the single-wick 2.5-ounce votive,  6-ounce sizes to the three-wick 25-ounce size. You can expect a Urban Re-Leaf fragranced candle to burn over 50 hours for the 6 ounce while the 25 ounce brown metered with 3-wick can go up to 200 hours. At the end of your candle's life, all it takes is a few simple steps to prepare the vessel for repurposing.
Here's how to prepare your candle vessel for repurposing:
Let your Urban Re-Leaf fragranced candle cool to room temperature.
Place the candle vessel in the freezer and leave it overnight to harden the wax.
Scrape out the hardened wax with a butter knife, using care not to crack the glass.
To remove any final traces of wax, place the vessel in the sink and fill with warm water.
Let the vessel soak for a few hours – any remaining wax should have solidified at the top.
Remove the solidified wax then wash the vessel with soap and water.
Ideas for Repurposing Your Candle
Once you've cleaned out your Urban Re-Leaf fragranced candle vessel, the real fun begins – choosing how to best repurpose it. Recycled from frosted amber glass, your candle vessel is something you want to enjoy as often as possible, so repurpose it wisely. If you're clever, you'll save up your collection of burned Urban Re-Leaf fragranced candles to create a matching set of something from the list below!
Here are some creative ideas for repurposing your Urban Re-Leaf candle vessel:
Vase

 

– The brown metered vessel makes for a beautiful vase to hold your favorite flowers or cuttings from your garden. You could also fill the vessel with a bundle of fresh herbs to adorn your windowsill.
Pencil Holder

 

– Add a touch of elegance to your desk with a beautiful pencil holder made from your repurposed Urban Re-Leaf fragranced candle vessel.
Makeup Brush Holder

 

– A good makeup brush is worth its weight in gold, so show yours the respect they deserve with a brush holder beautiful as the makeup looks you'll create.
Office Supplies Holder

 

– You never know when you'll need a safety pin or a couple of paper clips, so keep them nearby using your candle vessel as an office supplies holder.
Toothbrush Holder

 

– Urban Re-Leaf candle holders are so beautiful that you'll want to see them every day. Using it as a toothbrush holder ensures that you will!
Cotton Ball Holder

 

– Cotton balls are a bathroom necessity, but you never quite know where to keep them. A beautiful blown-glass jar is the perfect solution.
Spare Change Jar

 

– Spare change scattered on your entry table looks messy, so why not contain it in a beautiful vessel like your repurposed Urban Re-Leaf fragranced candle vessel?
Candy Jar

 

– Everyone deserves a little indulgence now and then. If you keep your sweet treats in a beautiful repurposed candle vessel, you can hardly feel guilty about enjoying them!
Key Holder

 

– Where do you put your keys when you walk in the door? If you just toss them on the table or stuff them in your pocket, you're missing an opportunity to repurpose your candle vessel as a lovely key holder.
Bookends

 

– If you have a favorite Urban Re-Leaf fragrance, you may have a set of matching vessels. Why not dress up your bookcase by filling them with sand or decorative rocks for more weight and using them as fancy bookends?
Ring Holder

 

– Rings have a way of getting lost in the clutter on your vanity or bathroom counter, so keep them safe in a ring holder just as beautiful as your rings are.
Miscellaneous Jar

 

– We all have that box or drawer of miscellaneous items we don't quite know what to do with. Why not give yours a facelift by replacing it with a Urban Re-Leaf candle vessel?
Pet Treats

 

– No need to keep pet treats in the plastic bags they came in. Keep them easily accessible in a lovely jar on the counter. Your furry friends will thank you for it.
Pot for Plants –

 

An Urban Re-Leaf candle vessel is the perfect way to give small indoor plants a delightful "spruce up".
When it comes to repurposing your Urban Re-Leaf candle holder, the possibilities are endless. With a little creativity, you can come up with an entirely new list of ideas. If you decide to get creative, send us a picture.  We would love to share how you re-purposed your jars.
Leave a comment
Comments will be approved before showing up.
---
Also in Urban Re-Leaf Candle Blog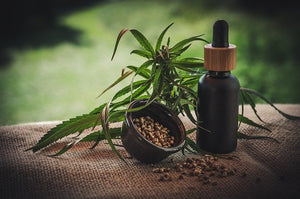 Dear Friends,
Happy Holidays! If you're still searching for the perfect gift for friends and family who love the cannabis/ hemp world, here's my holiday gift guide featuring the best cannabis cookbooks, accessories, infused eats, and infusion devices out now.