Incorporating Candles Into Your Weekly Routine
Incorporating Candles Into Your Weekly Routine
Many people might feel candles are only for special occasions, such as celebrations, holidays or events. This is anything but true, as many people around the world utilize candles on a weekly basis in a variety of interesting and diverse ways. Long story short—it doesn't have to be Christmas or New Year's to light your home with lively and bright cannabis candles. Let's take a look at inventive, everyday ways to incorporate candles into your life—not just to bring about more meaning, but to facilitate a deeper understanding of their impact in our culture!
Mornings can be challenging sometimes, don't you think? For many, it's a slow and steady trudge to the coffee pot where it takes several cups for our actual morning to begin. But mornings can be a quiet time to collect your thoughts and set intentions for the day. Lighting a candle near where you sit for your morning ritual can bring a much-needed rush of calm and centeredness before a demanding workday.
If you work from home or in a private and enclosed office, lighting a candle near your computer or workstation can facilitate focus, concentration and deep thinking for whatever task you have ahead of you. Sometimes when we feel distracted, staring into a cannabis candle can refocus us and ground us in the present moment. Candles have been known to increase productivity, which is certainly something HR should pay attention to when it's making its inventory!
Candles at night are a welcoming sign of rest and relaxation after a long and tiresome day. Whether you're enjoying a dinner by candlelight with someone special or strategically placing them around the bathtub while you relax with a soothing salt scrub, they are the perfect recipe for truly unwinding and saying goodbye to the workday.
For an end-of-day cannabis candle reprieve, try Calming Lily, which is found in a heavenly frosted amber jar and cork screw top to give it a warm and inviting glow. Calming Lily will bring to the surface sharp imagery of blooming gardens and running water and perfumed dusk. The notes on this particular candle are floral-based, containing white nectarine, black cherry and water hyacinth.
Whether you're wanting to jumpstart your day with a sense of ceremony or end your evening with a natural way to relax, cannabis candles are easy to integrate into your life, serving a variety of important purposes.
Leave a comment
Comments will be approved before showing up.
---
Also in Urban Re-Leaf Candle Blog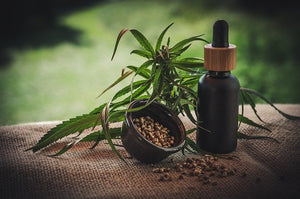 Dear Friends,
Happy Holidays! If you're still searching for the perfect gift for friends and family who love the cannabis/ hemp world, here's my holiday gift guide featuring the best cannabis cookbooks, accessories, infused eats, and infusion devices out now.