How to Use a Luxury Room Spray?
A scented room spray is a quick and effective way to refresh a space; the effect is instant and, if the scent is high quality, it will last a couple of hours. But a few additional tips and tricks will help you get the most from your interior scent. From how to layer an interior scent to the small spaces that can benefit from a spritz, we've found five new ways to use it, whether you're at home or away.
Layer the scent
An Urban re-leaf room spray scent will typically perfume a space for a couple of hours, but to stretch this even further, layer it with its matching candle. Spritz two-to-three pumps into the centre of the room at the same time as you light the candle. The room spray will provide an immediate waft of fragrance and as it begins to subside, the scent of the candle picks up.
Or, to create a bespoke interior scent, layer the room spray with a candle in a different but complementary scent. For example, with its rose and floral mid-notes, Calming Lily room spray pairs particularly well with the My Oud or Zen Garden Candle; the combination of the two is lighter and more delicate than My Oud used on its own.
Mist a scented room spray on curtains and cushions
Spritzing your room spray onto soft furnishings will help it linger in the room for longer. Try spraying a little onto curtains so that it catches in the breeze; or on cushions, where each plumping will release the scent. Always test it on an inconspicuous area first, to make sure it won't stain the fabric.
Spritz into cupboards
A couple of pumps will immediately refresh a musty-smelling linen cupboard and will leave the contents subtly scented, too. A layered approach also works here but this time, use an unlit candle that's at the very end of its life. When you're down to the final few centimeters of wax, place the unlit candle at the back of the cupboard – it will provide a subtle scent for weeks or months. Add a mist of room spray from time to time to reinvigorate the fragrance. The fresh, clean scent of Woodsley is ideal for this. 
Use it in your car
A luxury room spray isn't only for inside the house; it's also a simple way to leave your car smelling chic and lovely. While it's fine to leave a bottle in your glovebox for short periods of time, be aware that the heat of a hot car can cause the fragrance in a bottle of perfume to deteriorate faster. For this reason, it's best stored in a cool space.   
Pack it for a weekend away
Road trips, long weekends and short vacations have become our main means of escape. Stow a sophisticated interior scent in your luggage to use on arrival. It will help to disguise a stale-smelling room and has the added benefit of reminding you of home, no matter where you are.
What's the difference between room sprays and CBD buble bath?
While some Urban Re-Leaf scents – such as My Oud – are available in both a room spray and candles we also have this scent in our cbd bubble bath.  Each is formulated according to its intended role, so the CBD Bubble bath is designed to  attached to the receptors of the skin, while the room spray is lighter, to hang in the air. Using the two in combination provides a holistic approach to creating a layering effect in the bath,
Leave a comment
Comments will be approved before showing up.
---
Also in Urban Re-Leaf Candle Blog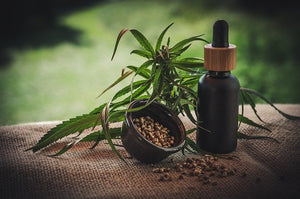 Dear Friends,
Happy Holidays! If you're still searching for the perfect gift for friends and family who love the cannabis/ hemp world, here's my holiday gift guide featuring the best cannabis cookbooks, accessories, infused eats, and infusion devices out now.