How To Mix Candle Fragrances (It's Not As Easy As You Think!)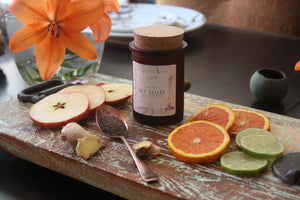 How To Mix Candle Fragrances (It's Not As Easy As You Think!)
We love our cannabis coconut wax candles at Urban Re-Leaf – obviously – and that means we often have dozens of candles sitting around, and we're thinking about ways to mix their fragrances, and create a comfortable, peaceful environment.
One of the most unique aspects of a candle is that you can let its scent mingle with other scents in your home – whether they're from other candles, essential oil dispensers, or any other source.
So, how can you properly mix candle fragrances? If you've ever lit more than a few scented candles and felt overwhelmed by the combined scent, you're not alone! There are some tips you should follow when mixing candle fragrances, to make sure the scent is mild and pleasant, rather than nose-blisteringly strong!  Here are some of our top tips.
 Start With Simple Scents
 You probably don't want to light "Freshly-Baked Cookies", "Pumpkin Spice", and "Evergreen Forest" scented candles together. That seems obvious, right? Why?
Because the more distinct scents there are in each candle, the more complex things will get when you light more than one candle. Dark, musky elements will combine, and lighter, more fruity scents will become murky and difficult to distinguish, leading to a scent that's muddy and indistinct at best, and can even become quite unpleasant.
 If you're lighting more than one scented candle, try to choose candles with just one or two basic fragrances.  Pecans, teakwood and cannabis i.e. The Woodsley, echos one another very well, for example. Another good basic combination is cannabis and citrus such as My Oud or Citrus Petals.
The fewer scents there are, the less risk there is of them intermingling in an unpleasant way.
   2.  Avoid Lighting More Than Two Or Three Scented Candles
 Following the above rule, you should also only light 2-3 of the same kind of scented candle at once. Even if you are using simple fragrances, combining 4+ scents always means at least one will get "lost in the shuffle".
 Need more candles for ambiance? Just buy some a package of clean burning, unscented coconut wax candles, and use them for additional lighting – without scent.
    3.  Choose Complementary Scents
 Would you combine a "Spring Rain" candle with a "Baked Cookie" candle? Probably not – because you already have an inherent understanding of complementary scents.
 Savory, deep scents like sandalwood and cedar, like Thicket, would go well with citrus and lighter, airy scents, as an example. 
   4.  Pick Clean Burning Candles For The Best Results
Not all candles burn as cleanly as others. It's best to avoid paraffin and petroleum waxes, as they can be somewhat acrid. We think coconut wax is the best alternative. In addition, make sure that your candles are using a 100% cotton wick.
Fewer artificial additives mean a more cleanly-burning candle that distributes fragrances more effectively. And that means your scents will be clean, clear, and crisp – no matter what combination you're using.
 Follow These Tips For A More Comfortable And Delightful Home
 With just a few high-quality Urban Re-Leaf candles, and basic knowledge about combining scents and candles, you can make your home more comfortable, peaceful, and relaxing.
So don't just sit there! Pick up a few candles that you think will complement each other well, and get started with your own scent combinations today.
Leave a comment
Comments will be approved before showing up.
---
Also in Urban Re-Leaf Candle Blog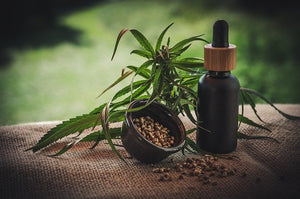 Dear Friends,
Happy Holidays! If you're still searching for the perfect gift for friends and family who love the cannabis/ hemp world, here's my holiday gift guide featuring the best cannabis cookbooks, accessories, infused eats, and infusion devices out now.