How to Beat the Holiday Blues with Urban Re-Leaf Cannabis Candles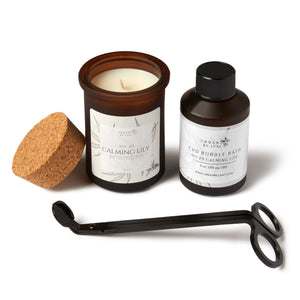 While the holiday season is joyous, filled with delicious foods, time with loved ones, giving and receiving thoughtful gifts- it can also be tiring and stressful. Not to worry, Urban Re-Leaf is here to help you get through the holiday season rested, and relaxed.
Take a moment for
 

YOU

 

time

Draw a bath, turn on some relaxing tunes, and the kicker- add some bubbles to your bath! It will be the Christmas Bath you've been waiting for. Add some candles all around the tub and on the counter top. We have limited edition holiday scents and gift sets. We have two new scents Nightfall and Cinar, we have blended together quince and cinnamon for a sumptuous holiday smell. For our Nightfall scent is dark and sultry a more sophisticated scent for the holiday season which makes it truly feel like the holidays. This is sure to be a new holiday favorite.

The cold weather around the holidays can bring us down. What better way to warm up then with a cup of tea! Not only does a warm cup of tea provide a comforting cozy feel, it also has many health benefits to take advantage this time of year. Green tea in particular is known for its high antioxidant properties which will aid your immune system and give you that extra boost. A perfect time for the season of colds is a high grade Japanese green tea, hints of lemongrass & ginger which can help act as a great decongestant. Add a little honey to sooth a sore throat. There you go- perfect plan to relax, get cozy, grab a cup of tea the morning after hosting a late night gathering of loved ones.

If tea isn't your cup of tea.. bottoms up. The holidays are filled with get togethers with loved ones over brunches. What brunch would be complete without a Chrismosas?!? Here is a cocktail that is sure to spice up your drink and make it festive for the holidays.

 
Start a tradition 
Traditions are a great thing to create as it gives you something to look forward to every year. Building on traditions and creating fun memories is at the root of the holidays. Spending a day out in the fresh crisp air and selecting that perfect tree for the holidays is a great way to get into the Christmas spirit. Once you've selected that tree you know will fit perfectly in your home, gather around with some hot cocoa or better yet, CBD infused coffee will warm you up.
Share the Love of Relaxation
Now that you've learned some tips on how to experience a blissful holiday season, why not share the joy. It's win win- your joy of gifting will bring everyone happiness. It's time to #Urbanreleafcandles and ensure everyone takes that time for themselves to rejuvenate and refresh. Urban Re-Leaf has you covered with our various gift sets - all boxed and ready to go.
Leave a comment
Comments will be approved before showing up.
---
Also in Urban Re-Leaf Candle Blog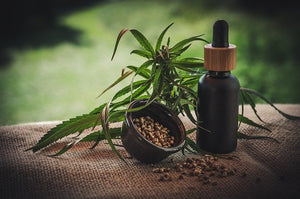 Dear Friends,
Happy Holidays! If you're still searching for the perfect gift for friends and family who love the cannabis/ hemp world, here's my holiday gift guide featuring the best cannabis cookbooks, accessories, infused eats, and infusion devices out now.