How Candles & Candlelight Can Increase Focus & Concentration
Is there anything better than lighting a candle before you open a textbook to do some weekend studying? What about light one by your bed for early morning prayers and meditation? Whatever your routine with candles, more than likely you use them as a tool for focus and concentration. Sure, candles have been used for centuries as a means of ritual and relaxation, but they also play an important role in fine-tuning our brains towards what we want to bring our attention to.
A burning flame has an incredible way of bringing about focus towards our lives and our day-to-day. In a way, a lit candle can send a signal that it's time to focus—or in many cases, relax and unwind. Candles act as a trigger and can alter the look and feel of a room dramatically. Similarly, it can do that to your brain, as well, sending out signals that it's time to hunker down and bring your attention to what's in front of you. While it may be challenging to read and study by candlelight, having one nearby your computer, tablet or workbook can make a monumental difference in terms of your productivity.
Scented candles affect our concentration, too. Certain smells trigger memories, so if you are wanting to fine tune your attention span, certain scents can send messages to your mind that you must focus. Often times this takes practice and conditioning, but the combination of a flame and scent can truly work wonders when you need to focus on a task at hand.
A cannabis candle such as The C. Leaf, made from coconut wax and eco friendly wicks, can easily become what you turn to when you need true concentration. With each candle containing cannabis essential oils, the aroma brings about luxurious nutty notes, highlighted with cloves, nutmeg, patchouli and cedar. While there is no THC present in The C. Leaf, it's sure to have a positive impact on your daily routine, no matter what you are bringing your focus to.
Cannabis candles are used for a variety of reasons and make excellent gifts for those looking to pepper their home offices with meaningful and impactful scents. Spend some time exploring all of their benefits—one of which is an improved focus and concentration so you can feel productive with your day.
Leave a comment
Comments will be approved before showing up.
---
Also in Urban Re-Leaf Candle Blog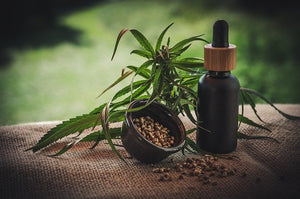 Dear Friends,
Happy Holidays! If you're still searching for the perfect gift for friends and family who love the cannabis/ hemp world, here's my holiday gift guide featuring the best cannabis cookbooks, accessories, infused eats, and infusion devices out now.