How Candles Make Your Home—a Home!
How Candles Make Your Home—a Home!
Have you ever stopped to think all the ways in which candles make your home—well, a home? It's hard to underestimate the olfactory properties of a vibrant cannabis candle to enhance the mood of your apartment, home or dwelling. Stop and think for a moment about where you prefer your candles to be. Are most of them in your kitchen—your living room—your bedroom or bathroom? More than likely, if you're sensitive to smells you have an assortment of candles in every room of your home. And why shouldn't you? Urban Re-leaf handmade candles, whether a soft lavender or hearty tobacco aroma—can drastically enhance your home's mood tenfold.
Aromatherapy and home décor have long been intertwined, which is why hand-poured candles make such ideal housewarming and hosting gifts. For example, what better way to diffuse food-related smells in the kitchen than by lighting a fragrant coconut candle by the sink? Urban Re-leaf's Calming Lily consists of simple yet powerful bright floral smells that are sure to wipe out unwanted odors. Living rooms are places where people come together, particularly when entertaining friends and family. How about setting the mood by lighting the popular Woodsley candle on your coffee table, allowing the enticing fragrance of sweet bourbon roasted pecans and vanilla to diffuse?
Candles relax people and invite them in, creating an environment that feels warm, cozy and welcoming. This is why it's imperative to place candles strategically to optimize their efficiency. Some interior designers even recommend placing small, lit candles in places where you least expect them to be, such as a linen closet or anywhere else fabrics may live to absorb their scent. This way, your fabrics take on the aroma of your sweet-smelling cannabis candle, allowing that to be presented out into the world.
In the end, you have to determine where candles are best served in your home. Naturally, with safety concerns, you want to proceed with caution, but also embracing the mood-altering components of hand-poured cannabis candles that so drastically empower your space. Again, candles make great gifts ideas for a variety of events, and by shopping small with a company like Urban Re-leaf, you're bringing an aroma-packed goodie that will surely prove to mean a lot to its recipient.
A home is an intimate place you look forward to returning to each day, so why not embrace all that cannabis candles have to offer and begin peppering your home with fresh scents today? After all, no one ever complained about a dwelling being too comfy and inviting as that's what makes a home—a home!
Leave a comment
Comments will be approved before showing up.
---
Also in Urban Re-Leaf Candle Blog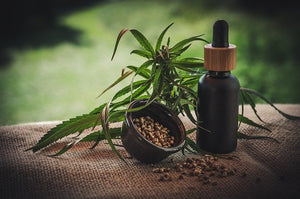 Dear Friends,
Happy Holidays! If you're still searching for the perfect gift for friends and family who love the cannabis/ hemp world, here's my holiday gift guide featuring the best cannabis cookbooks, accessories, infused eats, and infusion devices out now.