Candles Tips and Tricks
While there's no wrong scent to burn — we see you B&B cucumber melon circa '99 — there is a right and a wrong way to burn, and make, a candle. We've put together some of our favorite tips and tricks to get the best, longest burn out of your candle.
Let's start with making since that's such an important part of the Urban Re-Leaf  candle experience.  
Choosing a vessel
This is one of the most fun parts of making an Urban Re-Leaf candle, in our humble opinion. We looked high and low to find a candle vessel that we thought could represent our brand and culture.  We found it in our amber frosted candle vessels. It says bohemian with a bit a luxury. The jars can be upcycled afterwards and it also contains 33% of recycledable material. Keep in mind, there are a few things to consider when choosing a vessel.
Vessel diameter
The wicks we used are designed for vessels between 2.5 - 3 inches in diameter. This is one of the most important factors in the burn quality of your candle. If your vessel is much wider than 3 inches, it will likely start to tunnel (when the edges of the wax don't melt). We recommend getting a full melt the first time so you will not encounter this problem. If you're in a pinch and need an extra wick holder too, a simple chopstick can work well. 
Vessel durability
Our vessels are durable, and can withstand heat well. When dealing with glass, the thickness of the walls of the vessel have a big impact on whether it can hold a candle or not. Would you feel comfortable pouring a hot cup of coffee in it? If not, it's probably not suitable for a candle. 
These are a few key things to think about when selecting your candle company. 
Lighting your candle
Seems straightforward, but how you light your candle can impact the burn quality.
Wick trimming
You've probably heard that you should be trimming your candle wicks…but why? Because it's the best way to create a smoke free burn and prevent soot from forming around the rim of your vessel. Candle wicks should be trimmed to ¼" above the wax before each burn. A wick that's lit when it's too long or has that sooty 'mushroom' on top of it, will make a flame too big, creating smoke and soot. Dirty air aside, a big flame will also burn your candle down faster, reducing your overall hours of enjoyment. So do yourself a favor and pick up a wick trimmer to start burning better.
Burn time
Did you know wax has a memory? It remembers the first shape it takes, and like muscle memory, likes to make that same form over and over again. This is why the first burn is so crucial to the life and quality of your candle. On the first burn, make sure the wax melts all the way to the edge of your vessel. This can take a long time depending on the size of your vessel — usually about 1 hour per inch in diameter. Our pro-tip, if you're lighting your candle for the first time, do so when you know you're going to be home and attentive so you can let it burn as long as it needs to get that nice even top. Already have a candle with tunneling on top? It's not a total loss. Simply scrape off the excess wax around the edges and next time you light it, let the entire top melt.

Candle decorating tricks
We believe home is made in the details. Candles are a small product that can have a big impact on a space. And of course, we're all for using them to decorate and add atmosphere throughout the home. Here are some of our go-to ways to spread good scents and good vibes.
Power in pairs
We love a good duo. A couple different candles sitting together on a coffee table or in the kitchen can be nice not only visually, but can offer a unique aromatherapy experience as well. Choose two scents that compliment each other, like something woody or earthy, with a floral forward fragrance to create a feeling like you're in nature. We recommend pairing Citrus Petals with Zen Garden or Haven with Meadow.
Candle trays
There's no such thing as too many candles. But sometimes when you have a lot of them on display, it can start to feel a bit busy. Reign them in and create a more minimal, orderly aesthetic by placing your favorites together on a candle tray. Light one at a time, or a couple. Guests can have fun doing a little scent sampling too.
Candlescapes
That's a word, isn't it? A few candles can take a table setting from basic to beautiful very easily. Play with different heights, like candle sticks in holders, together with tea lights and candles in various vessels. Mix in some greenery, soft linens and your favorite dishware and you've got yourself a dinner party. 
Simple and subtle
Sometimes less is more. A well placed candle in the bathroom, bedroom or home office can make a space feel considered and more welcoming. Bonus points if you match the perfect scent to the room. We love a citrusy scent — like Citrus Petals — in the office to keep up the energy levels. Soft florals in the bedroom to create calming vibes are always a good choice. You can't go wrong with My Oud or Calming Lily. A woody scent in the bathroom brings the outdoors in and can help open up what is often an enclosed space — Havana Wood is lovely. 
Tips and tricks takeaways
Always trim your wick to ¼" before each lighting for the cleanest, most efficient burn.

Let your candle burn until the entire top is melted to the edge, especially on the first burn.

Get creative decorating with candles by pairing complementary scents, arranging a collection of candles on trays and in candlescapes.

Never underestimate the power of a single candle to change a space.
Leave a comment
Comments will be approved before showing up.
---
Also in Urban Re-Leaf Candle Blog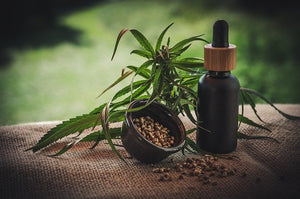 Dear Friends,
Happy Holidays! If you're still searching for the perfect gift for friends and family who love the cannabis/ hemp world, here's my holiday gift guide featuring the best cannabis cookbooks, accessories, infused eats, and infusion devices out now.