Candles, Clean Burning and Urban Re-Leaf
Our Urban Re-Leaf candles are specially poured with you and our environment in mind. How? The answer is in our simple, pure formula: Coconut wax, phthalate free fragrance oil and pure cotton wick (or wicks!).
Urban Re-Leaf chooses to work primarily with coconut wax because it is a renewable, biodegradable, non-toxic and carbon neutral resource. Candles that are made of coconut wax tend to burn more cleanly and for a longer period of time than candles made entirely of  soy or paraffin.
Even more, Urban Re-Leaf fragrances are phthalate free. Phthalates are chemicals that are often found in plastics and vinyl and have been listed as "reasonable anticipated to be a human carcinogen" by the National Toxicology Program. Because of its toxicity, we are opposed to any kind of chemical like this being a part of our final product.
Pure cotton wicks are a staple of Urban Re-Leaf candles. Burning cotton wicks as opposed to other types of wicks can reduce carcinogens in the environment, reduce soot, and decrease the amount of harmful substances released during the burning of a candle. Cotton wicks also improve the fragrance delivery and burns longer.
Discover our clean burning candles here.
Leave a comment
Comments will be approved before showing up.
---
Also in Urban Re-Leaf Candle Blog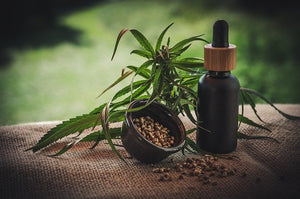 Dear Friends,
Happy Holidays! If you're still searching for the perfect gift for friends and family who love the cannabis/ hemp world, here's my holiday gift guide featuring the best cannabis cookbooks, accessories, infused eats, and infusion devices out now.