13 Small Living Room Decorating Ideas
Your living room is where you go to relax after a long day at work or where you spend time playing with the kids on the weekend. There are no rules when it comes to designing this space, because it's all about what you and your family need. That being said, if your living room is on the small side, you may have a bit of a challenge ahead of you. Don't worry though, there are plenty of options!
A small living room may not be ideal for entertaining large groups, but you can still work with what you have to create a warm and inviting environment. With the right furniture and some creative design elements, you can make your small living room into a perfectly lovely and livable space. Read on to see some helpful design tips that may spark some inspiration.
Simple Ways to Decorate a Small Living Room
If your living room is small, you need to get creative to maximize your use of the space. With a little creativity and some clever planning, you can turn your small living room into a space the entire family will enjoy. Here are some simple ideas to consider:
1. Use a neutral color scheme.
An accent wall is great, but the wrong color can make your living room appear smaller than it actually is. Go with a nice white or light gray color to give your living room a stylish, modern feel. Light colors will make your living room seem brighter and larger, so use throw pillows or wall art to add a splash of color without going overboard.
2. Get creative with different textiles.
Just because you don't have a lot of space to work with doesn't mean you have to limit yourself on the design. Use fabric elements like a handmade throw pillow, a woven rug, or a macramé wall hanging to add character to your small space. These décor elements will give your living room a nice "boho" feel.
3. Use fragrance to create ambiance.

Home is more than just a location – it's also a feeling. The right fragrance can make a world of difference in bringing together your living room. Using Urban Re-leaf Candles and
 room sprays
 you can create the perfect ambiance in your living room. A fragranced candle is perfect for small spaces. Both also add an air of elegance with their artfully crafted frosted amber glass vessels. Or, if you need a quick spritz of fragrance, try the Urban Re-Leaf room spray.
4. Decorate with live plants.
Nothing brings life to a living space than a few house plants. You don't necessarily need to go big with a giant ficus or cover an entire wall with a wandering philodendron, but consider using potted plants as décor elements. A nice flowering plant in a geometric vase can be just as much a statement piece as a sculpture. If you're not interested in maintenance, succulents are the way to go! Of course, you can always go with silk flowers as an alternative if you want the color without the work.
5. Choose your décor items sparingly.
When it comes to decorating small spaces, less is usually more. In your living room, you want to focus on the big necessities like the sofa, coffee table, and shelving. Although, when it comes to the smaller décor items, look for items that add style as well as function so you don't clutter things up too much. A classy Urban Re-leaf candle is ideal because it comes in an frosted amber glass vessel with a cork lid that can even be repurposed after the candle burns out.
Leave a comment
Comments will be approved before showing up.
---
Also in Urban Re-Leaf Candle Blog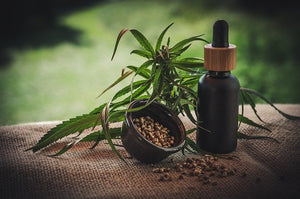 Dear Friends,
Happy Holidays! If you're still searching for the perfect gift for friends and family who love the cannabis/ hemp world, here's my holiday gift guide featuring the best cannabis cookbooks, accessories, infused eats, and infusion devices out now.